Gijs the Goose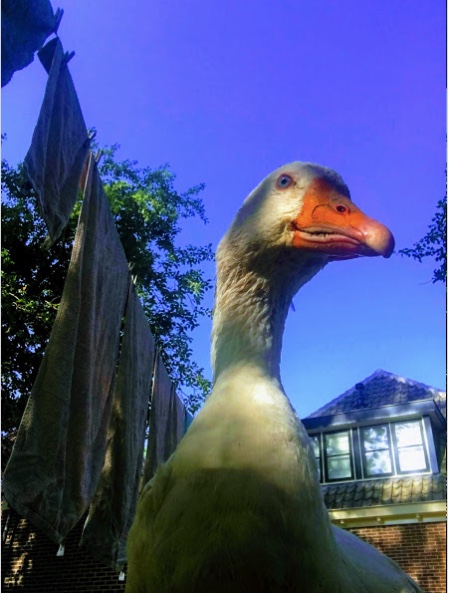 Gijs was born in the spring of 1993 in the ditch to the left of the statue. A small miracle, since his parents' attempts to reproduce had so far been unsuccessful. A number of unfertilized eggs in the nest were exchanged with fertilized ones and the parents became the proud mum and dad of some fluffy goslings. While his siblings grew and left the nest in their own good time, Gijs chose to stay with his parents and grew up to be a fine gander.
After the passing of his parents Gijs led a busy life in the village ditch. He made friends with the ducks and went on outings. Occasionally he would leave his safe surroundings to explore the village a bit further. His somewhat harsh gaggling was heard loud and clear from his residence, the front yard of the Melchior Hoeve to the left of the statue. For many of the Twisk villagers, Gijs was a living landmark. Some of them would have short conversations with him and Gijs would answer back in his own, understanding manner.
Through the years Gijs managed to make himself a decent living, often helped by the villagers who doted on Gijs. The winter of 2009 was exceptionally hard and without human intervention, he wouldn't have lived to see the arrival of spring. Villagers took him to "De Bonte Piet", a nearby bird sanctuary. Here Gijs was nursed back to health and he returned to his home in Twisk fit as a fiddle.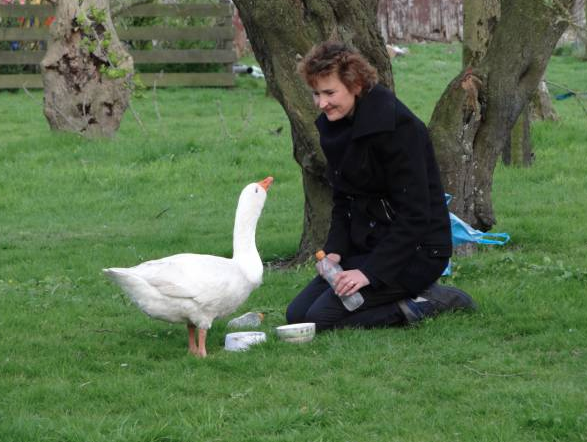 Winter came early in 2010 and it snowed heavily. It was impossible for Gijs to survive this harsh winter on his own. However, with divine intervention, Gijs was no longer alone when Jopie came into his life. Jopie had concerns about Gijs' welfare and she started taking care of him. A special bond grew… In the eight years that followed Jopie visited Gijs daily. They formed their own special ways and rituals. Gijs looked forward to her coming. A bird and a human valuing and respecting each other as beings, it was a sight for sore eyes. How simple yet how extraordinary life can be.
After a long and wonderful life, Gijs passed away peacefully in his sleep on June 6, 2018. The villagers mourned his passing, his gaggling was missed, a landmark gone.
This bronze, by Twisk artist Monique Scheers, is a tribute to the special bond between man and animal and is also a beautiful example of the unity and cooperation of the people in the small and beautiful village of Twisk.
Twisk April 19, 2019
Made possible with the help of the people of Twisk and the Council of Medemblik.