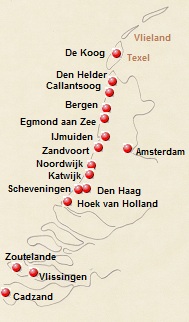 Eight North Sea beaches in Holland above Amsterdam have a blue flag status, which means that they are clean and safe. Along the 52-kilometre long coast of Holland above Amsterdam, you will find a wide variety of beaches. From easy-going Wijk aan Zee, through the large dune area of Schoorl, to the beautiful white beaches of Callantsoog and all the way to Den Helder. There are lovely bathing beaches for families, where various activities are organised, as well as trendy beaches with beach pavilions where you can lounge all day long.
If you don't like salt water and sand and prefer swimming in sweet water, you can get to the largest lake of the Netherlands within an hour. The small beaches along Lake Markermeer and Lake IIsselmeer are wonderful places to enjoy a day of sun and water. These beaches also have pavilions and you can participate in all kinds of activities, such as wakeboarding, stand-up paddle boarding and fly boarding. After a swim, you can flop into a comfortable chair on the terrace of a nearby restaurant to enjoy the evening sun.
And then, of course, there is also the Wadden Sea, which is on the UNESCO World Heritage list.